Computed field strengths are listed in a table where points with a too high amplitude, compared to a user-defined limit, are highlighted. To get the complete picture, you can plot the field in various ways, e.g., as a color surface plot. Try different ways to reduce the field strength such as, e.g., rearranging cables or using a ground plane. Get the new results by a simple press on a button.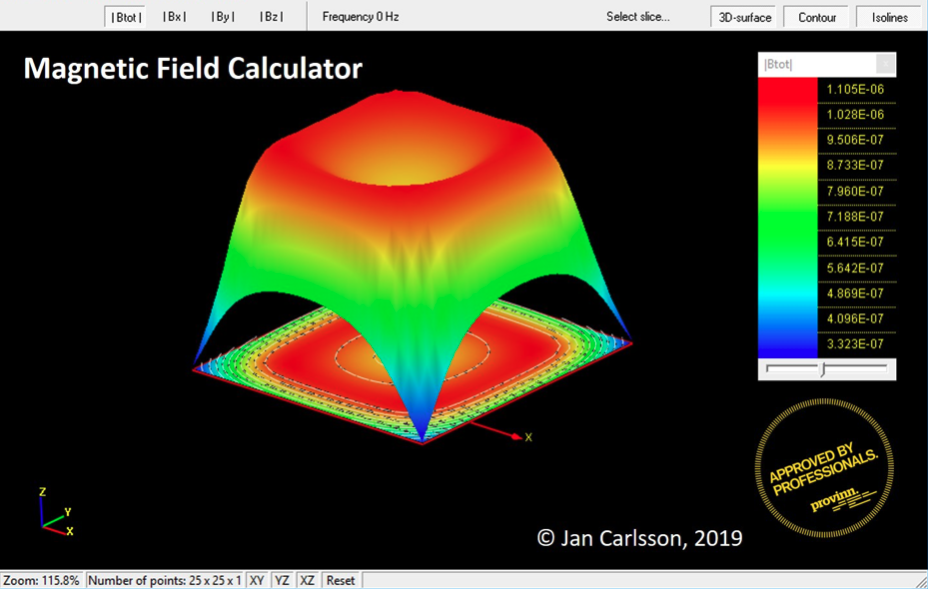 Basically, the Magnetic Field Calculator computes the magnetic field, or rather the magnetic flux density, in points in space due to currents in an arbitrary number of straight segments (wires). Each segment is defined by its end coordinates in three dimensional space, and the (signed) current amplitude. The program can in principle handle any number of segments which makes it possible to build complicated structures. To simplify the process of building structures, there are some tools for making generic structures, such as ellipses, helixes etc. It is also possible to import ASCII-files with end coordinates for segments, thus making it possible to create structures in another program such as, e.g., Matlab. Once the structure has been created, the magnetic field can be computed at a frequency chosen by the user.
The intention is to provide a tool which is simple to use and that can be used for cases where we need to get answers on questions like "what will the magnetic field be in a certain point if the current is x A on a specific cable?" and "what will it be if the cable is placed close to a ground plane?".
Magnetic Field Calculator was developed by Prof. Jan Carlsson in 2019. For additional questions about the software you can send an email to jan.carlsson@provinn.se.
Note: When purchasing Magnetic Field Calculator you will receive an email with a download link and password. The purchase is then completed.